The Strasburg Museum and Gift Shop!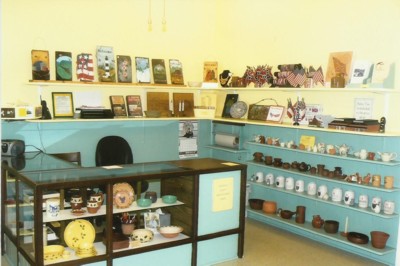 The Strasburg Museum
440 East King Street in Strasburg, Virginia.
Open Weekends (Friday-Sunday)
May thru October: 10:00AM-4:00PM
Phone number: 540-465-3175 (open hours only)
Admission: Adults: $5.00, Teens: $1.00,
- Children: 50 cents
The Gift Shop does not take Debit or Credit Cards!

In the picture on the left, the top shelf displays slates from the Museum's 1891 roof. These have been painted by local artists.

Become a Member of the Strasburg Museum
Download, Print and Mail in our Membership Form!

A brief history of the creation of the Museum.
(Excerpt from "A Brief History of the Strasburg Museum" by Marie Spence).
A group of Strasburg citizens, who were interested in the preservation of the rich historic and cultural heritage of the area, met and organized Strasburg, Inc. The initial project was the creation of a community museum. The former steam pottery/depot was determined to be an excellent location for this effort to preserve and educate about the area's rich heritage.

The acquisition of a long-term lease from Southern Railway of the old depot, and a fund raising campaign, sponsored by the Museum group aided by local citizens and organizations, made the heritage project a reality. The Strasburg Museum officially opened to the public on July 5, 1970. Eventually the Strasburg Museum was able to purchase the property.
Items of interest
for museum display were given or loaned by local individuals or families. Exhibits are 18th, 19th and 20th century pieces in authentic condition and include items from Colonial farms, barns, and homes, Native American artifacts, Civil War articles, blacksmith and cooper collections, an Old Country Store display, three Victorian-style rooms, antique clothes, a whiskey still, a telegrapher's key, an extensive photo history of local architecture, a railway baggage car and red caboose, a working model railroad, as well as a large collection of antique Strasburg pottery. Building improvements and expanding exhibit projects continue. Support from local people and businesses, as well as paid visitor admissions, have made it possible to provide an outstanding museum which reflects the heritage of Strasburg and its surrounding areas. Visitors come from almost every state and from numerous foreign nations to enjoy and learn more of our local history.
| | |
| --- | --- |
| | |
View some Unusual Items on display at the Museum.
View Old Bibles on display at the Strasburg Museum.
The following are pictures of the exterior and interior of the building taken 1996:

Strasburg Museum Exterior - 1996

Interior of Strasburg Museum
Strasburg Pottery in Background.
Some of these items may have been manufactured here.

Interior of Strasburg Museum

Interior of Strasburg Museum
A painting related to pottery production
| | |
| --- | --- |
| Interior of Strasburg Museum | |